Here we go! Election season is right around the corner. Our mission until election day 2020 MUST be voter engagement. The more votes we turn out, the more chance of turning Arizona blue. Our last general meeting took the first step forward with small group conversations regarding impeachment. We focused on the dynamics of discussion as it will be very important that we talk with folks that may not have the same political leanings that we do. Hearing all your voices and the differing opinions within PI makes it clear to me that learning to really listen is the way forward as we work to inform voters. I know that many of us feel that we are too shy to go door to door and speak with strangers. I have definitely felt that way over the last few years. It takes courage to knock on a stranger's door, but we can do this. We can train you; we can walk with you. Remember that the reason we all joined PI is that Donald Trump was "elected". This is a very best opportunity to save our society, our planet and ourselves. We actually have a good chance in 2020. AZ is now a battleground state. Read the article attached: PollerCoaster.
I'm including four graphs that were in a prior week's edition of PollerCoaster.  Check out crooked.com for more articles.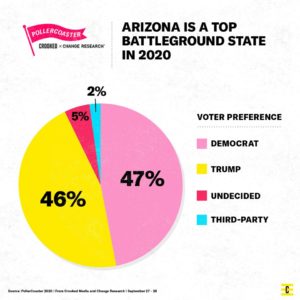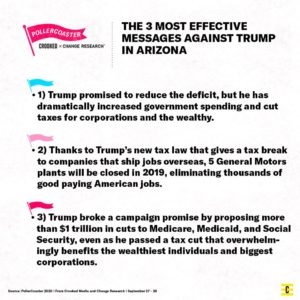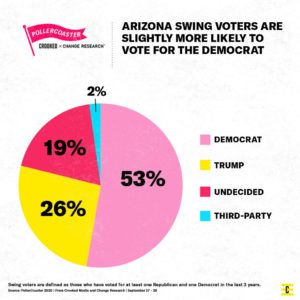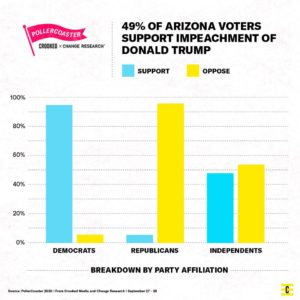 We will need to recommit ourselves in this election cycle. We will need to use all of our creativity, our extra time and our social skills to get folks involved and to the polls! Thank you for your commitment to our future!