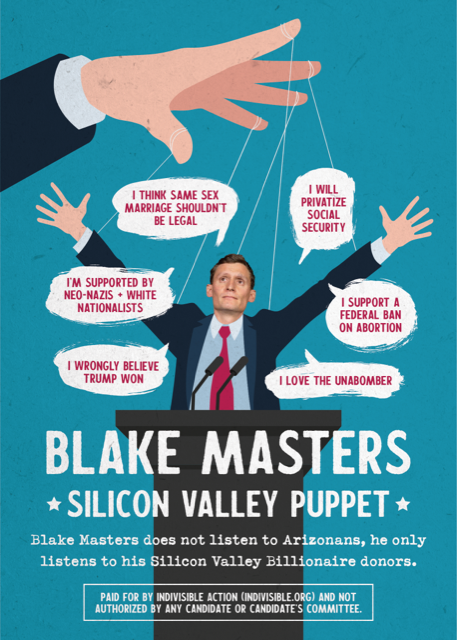 Blake Masters Is No Good for Arizona Let's heavily expand our anti-Blake Masters messaging before the November election. Here's easy way to share how bad Blake Masters really is using SpeechifAi. SpeechifAI is a platform that helps large numbers of people easily compose social media posts around a common theme in their own words. All you have to do isclick on this link, and choose which social media platform you want to share on. 
Put Blake Masters on Blast and hold him accountable by clicking here.
Anti-Blake Masters Postcard Effort We're on the last push ahead of the mid-terms and there is still lots to do before the ballots drop. AZ Indivisible has provided stamps, cards and a script so postcards can be sent to registered Independent women with an inclination to vote Dem and who voted in 2018 and 2019.
Postcard writing gatherings will be held at the Prescott and Prescott Valley Library.
Prescott –
Mon 9/26 1-4pm (Founders Suite B)
Sat 10/1 1-4pm (Founders Suite A)
Tues 10/4 12-4pm (Founders Suite B) – 2 shifts 12-2 and 2-4
Sat 10/8 12-4pm (Founders Suite B) – 2 shifts 12-2 and 2-4
Prescott Valley Library, Glassford Hill Room
Each session will have two shifts: (2 shifts 12-2 and 2-4)
Tues 9/27 from 12-4
Mon 10/3 from 12-4
Wed 10/5 from 12-4
Please spread the word to your friends. We need to write 2,500 cards in a timely fashion. Let me know your availability. (If you can't write, you can put on postage.)
Maria (Lynam), maria488@icloud.com