Support Prescott Indivisible As We Educate, Share & Uphold Liberty In Northern Arizona →
Support Prescott Indivisible As We Educate, Share & Uphold Liberty In Northern Arizona!
Prescott indivisible's mission is to educate, share and uphold liberty with justice for all with compassion and a dedication to truth. 
TAKE ACTION
Learn more about #CallYourDentist Campaign to #RemovePaulGosar
WHO WE ARE
Prescott Indivisible is a non-partisan community which seeks to promote a progressive and inclusive agenda in support of human rights and the environment.  
We are one of over 6,000 local chapters of the national Indivisible grassroots movement.
We organize and advocate for peaceful, effective resistance at a local level following the strategy set forth in the Indivisible Guide.
We welcome people of any political persuasion who are ready to resist.
We focus on local actions in defense of the rule of law, the Bill of Rights, and the Constitution and stand united in opposition of any individual or group that seeks to erode or v

iolate our democracy.
Ready to get started? Sign up for our newsletter!
NEW TO PRESCOTT INDIVISIBLE?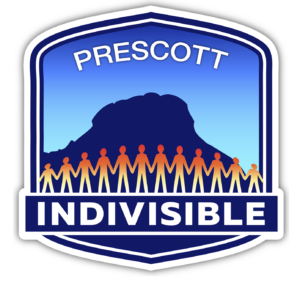 6/16/21
Click HERE – you will go to a screen where you enter your street address, state and phone. Then click on "Call me Back" and you will subsequently be connected with one of our own a senator's office. Urge passage of the For the People Act. Here are some suggestions for the call:
Donald Trump's presidency and attempts to steal the 2020 election have put into focus the cracks in our democratic system. That's why one of Senate Democrats' first order of business was introducing S. 1, the For the People Act, signaling that structural democracy reform is their number one priority. With our democracy in crisis, we need robust reforms that targets voter suppression, gerrymandering, money in politics, corruption, and more. 
Without a functional democracy in which everyone is included and represented, we can't achieve any of our other goals. All the issues we care about deeply– health care, immigration, ending wars, racial justice, climate change—fixing these things requires a democracy that is responsive to the people, not to the powerful and wealthy. We will remember where you stood on this crucial bill.
At this historic moment, we have the opportunity now to fundamentally change our democracy for the better, and to better protect and preserve it. But only if you vote yes on S.1, and stop the filibuster from blocking its passage. Thank you."
Stay up to date on our latest articles and news.
 Prescott Indivisible AZ Legislature Updates & More  June  20, 2021...
read more