Support Prescott Indivisible As We Educate, Share & Uphold Liberty In Northern Arizona →
Support Prescott Indivisible As We Educate, Share & Uphold Liberty In Northern Arizona!
Prescott Indivisible promotes social justice and political accountability through advocacy and activism while advancing humanitarian, inclusive and progressive values at all levels of civic engagement.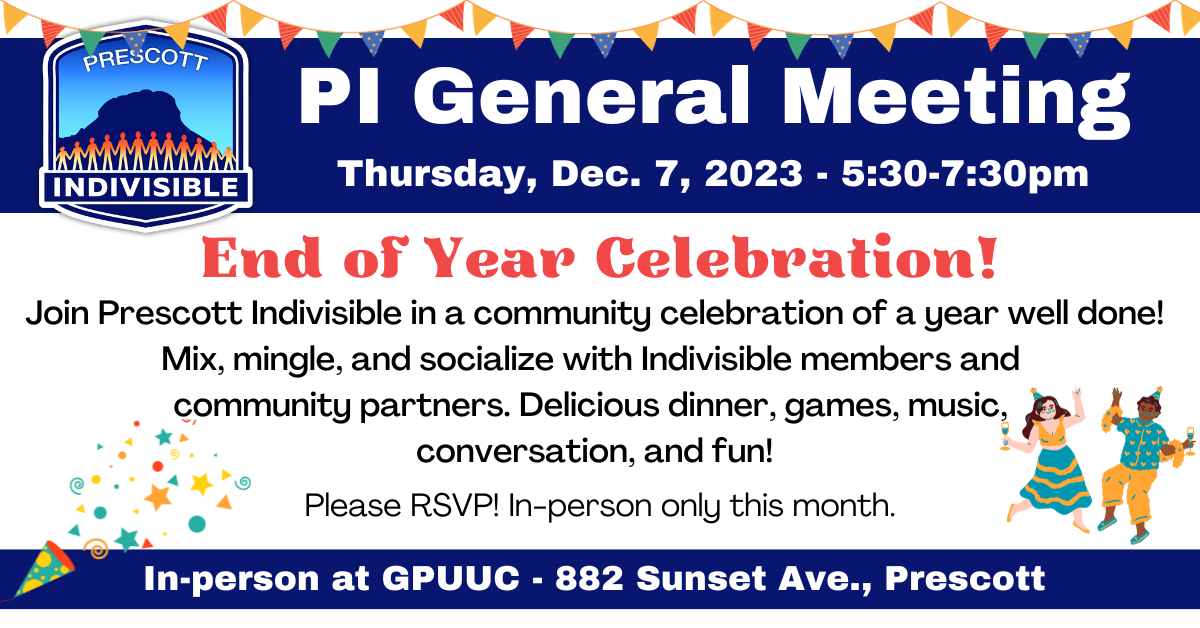 Optional: Please bring dessert to share and wrapped white elephant gift.
We are collecting items for CCJ: socks, gloves, beanies, gently used blankets, size large jackets, plus cash donations. Thank you!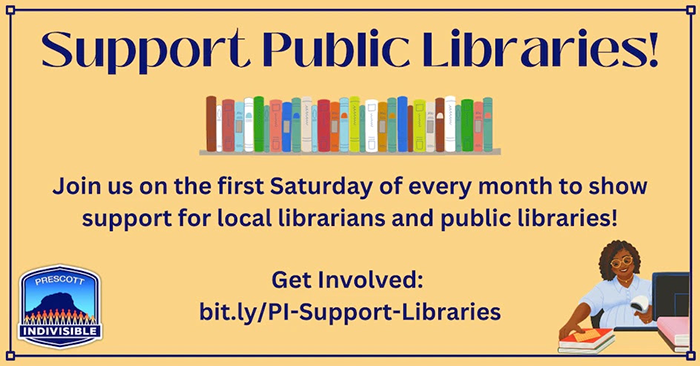 Public Libraries Need Our Support!
Across the country, far-right wing groups are attacking libraries for having collections with books that acknowledge and celebrate the experiences of LGBTQ+ folks, Black history, and social justice movements. Some groups are going so far as to force schools and libraries to remove these books from the shelves.
Prescott Indivisible is taking action by hosting a monthly "Support Public Libraries" day of action on the first Saturday of every month. Beginning on Saturday, Oct. 7th we encourage everyone to stop by their local library in Yavapai County to thank local librarians for their work (perhaps bring them cookies or another treat!) and then stand outside with signs encouraging other patrons to join in on supporting local public libraries. Please RSVP and let us know which day(s) you will be participating and which library you will be visiting!
Not sure where your closest public library is? You can see the complete list here: https://www.yln.info/
We encourage you to make your own signs of support, but we will also be making some signs for anyone to use. Signs will be available to pick up at our next General Meeting on Thursday, Oct. 5th 5:30-6pm. Please stop by!
Please RSVP and let us know what day(s) and library you will be visiting!
If you are going to visit your local library and want folks to join you, make your own event and we'll help get out the word! https://www.mobilize.us/…/support-public…/event/create/
: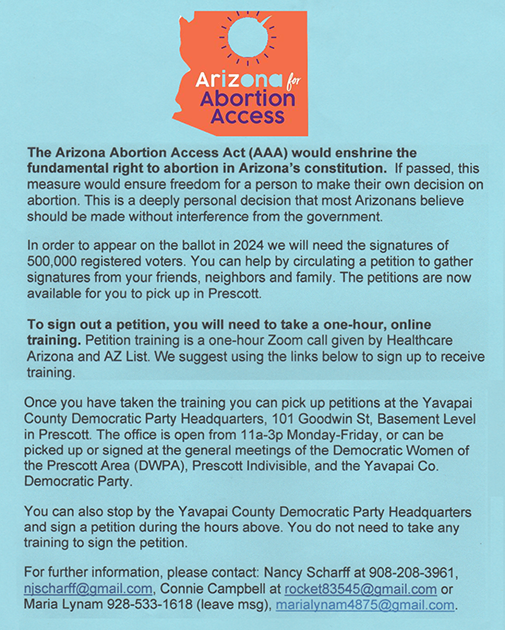 Arizona is ground zero of MAGA Republican attacks on our rights and our democracy. Battleground Arizona is preparing now to get a measure on the 2024 ballot that would amend the state constitution to protect abortion rights.
TAKE THE REPRODUCTIVE RIGHTS PLEDGE
By signing, you will pledge to gather signatures to get the Arizona Abortion Rights Amendment on the 2024 ballot.
Petition Pick Ups:
Nov. 15 4-6p and Sat., Nov. 18 10-noon at Starbucks, Frontier Village.
Thank you Prescott Community for a great turnout at our DACA picnic!
To date, we have raised over $6000 for our DACA Community.
Thank you to all who donated money and items for our raffle/auction, plus our wonderful community supporters including:
Texas Roadhouse, Purple Cat, Peregrine, Sprouts, The Frame & I, See's Candies, BIGA, The Local, Dutch Brothers, Bosa Donuts, The Bubble Man, Safari Samosas
Learn About DACA & Dreamers:
NEW TO PRESCOTT INDIVISIBLE?
Stay up to date on our latest articles and news.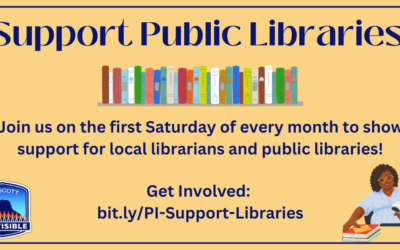 Prescott Indivisible continues its Support Public Libraries campaign by hosting a day of...
read more
WHO WE ARE
Prescott Indivisible is a non-partisan community which seeks to promote a progressive and inclusive agenda in support of human rights and the environment.  
We are one of over 6,000 local chapters of the national Indivisible grassroots movement.
We organize and advocate for peaceful, effective resistance at a local level following the strategy set forth in the Indivisible Guide.
We welcome people of any political persuasion who are ready to resist.
We focus on local actions in defense of the rule of law, the Bill of Rights, and the Constitution and stand united in opposition of any individual or group that seeks to erode or v

iolate our democracy.
Ready to get started? Sign up for our newsletter!
Prescott Indivisible is delighted to announce the debut of The Youth Perspective, a column written by our intern Toby Chang. The Youth Perspective aims to share a uniquely Gen Z viewpoint on the topics, issues, and challenges of the day that younger folks find important. Check out The Youth Perspective!