Support Prescott Indivisible As We Educate, Share & Uphold Liberty In Northern Arizona →
Support Prescott Indivisible As We Educate, Share & Uphold Liberty In Northern Arizona!
Prescott indivisible's mission is to educate, share and uphold liberty with justice for all with compassion and a dedication to truth. 
   Community Discussion! February 4 @ 6PM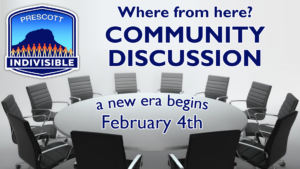 On Feb. 4th, Prescott Indivisible launches into a new era and we need your contribution to our direction and growth moving forward.
Whether you are a new member or 4 year veteran, PI has a role for you in this new era!
The Community Discussion is a chance to learn more about the priorities of National Indivisible, the 2021 vision of our teams, our many volunteer opportunities and other ways to contribute, as well as have your voice heard in determining the direction of PI in 2021.
Prescott Indivisible has become an influential organization in our community, with your help we can continue to positively impact Northern Arizona and grow our voice for progressive values, join us!
Prescott Indivisible is a non-partisan community which seeks to promote a progressive and inclusive agenda in support of human rights and the environment.  
We are one of over 6,000 local chapters of the national Indivisible grassroots movement.
We organize and advocate for peaceful, effective resistance at a local level following the strategy set forth in the Indivisible Guide.
We welcome people of any political persuasion who are ready to resist.
We focus on local actions in defense of the rule of law, the Bill of Rights, and the Constitution and stand united in opposition of any individual or group that seeks to erode or v

iolate our democracy.
Ready to get started? Sign up for our newsletter 
NEW TO PRESCOTT INDIVISIBLE?
Visit Our Voter Values Project (VVP) Website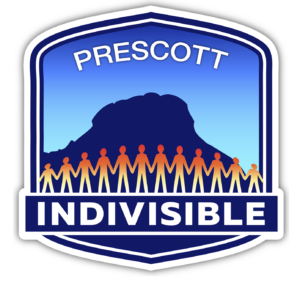 1/19/21 Special Edition


1/22/21 Edition
Stay up to date on our latest articles and news.
DWPA January 25 - Update Congratulations to Rep. Raquel Teran, the new Chairperson of the Arizona...
read more