Support Prescott Indivisible As We Educate, Share & Uphold Liberty In Northern Arizona →
Support Prescott Indivisible As We Educate, Share & Uphold Liberty In Northern Arizona!
Prescott indivisible's mission is to educate, share and uphold liberty with justice for all with compassion and a dedication to truth. 
DONATE TO PRESCOTT INDIVISIBLE & INDIVISIBLE NAT'L WILL MATCH YOUR DONATION!

From April 1st through May 31st, all of the funds we raise through the Indivisible distributed fundraising program will be matched, dollar-for-dollar, up to a maximum of $500!
Your donation and the matched funds, will go to the many civic engagement efforts that PI supports throughout the year like voter registration, leadership and community meet-ups, assistance to Dreamers, celebrations, vigils, and much more.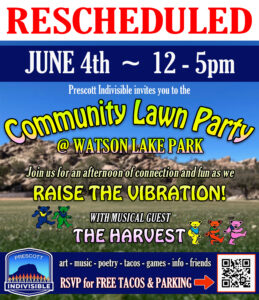 Community Lawn Party June 4th! Watson Lake Park, Prescott
NEW TO PRESCOTT INDIVISIBLE?
Stay up to date on our latest articles and news.
Beginning Wednesday, May 25Register Here
read more
Learn more about #CallYourDentist Campaign to #RemovePaulGosar
Long Live a Free Ukraine!
Looking for ways to help?
On Tuesday May 4, Prescott Indivisible and other organizations rallied at Prescott Courthouse, joining hundreds of other groups across the country to defend women's rights and demand that elected officials take action against overturning Roe v. Wade. We had great speakers, inspiring music, and a powerful connection with each other to keep fighting for our rights. It was fantastic to have such a great turn out on short notice- more than 75 people attended. Stay strong. We stand in solidarity.
WHO WE ARE
Prescott Indivisible is a non-partisan community which seeks to promote a progressive and inclusive agenda in support of human rights and the environment.  
We are one of over 6,000 local chapters of the national Indivisible grassroots movement.
We organize and advocate for peaceful, effective resistance at a local level following the strategy set forth in the Indivisible Guide.
We welcome people of any political persuasion who are ready to resist.
We focus on local actions in defense of the rule of law, the Bill of Rights, and the Constitution and stand united in opposition of any individual or group that seeks to erode or v

iolate our democracy.
Ready to get started? Sign up for our newsletter!