Prescott Indivisible promotes social justice and political accountability through advocacy and activism while advancing humanitarian, inclusive and progressive values at all levels of civic engagement.
We are one of over 6,000 local chapters of the national Indivisible grassroots movement.
We organize and advocate for peaceful, effective resistance at a local level following the strategy set forth in the Indivisible Guide.
We welcome people of any political persuasion who are ready to resist.
We focus on local actions in defense of the rule of law, the Bill of Rights, and the Constitution and stand united in opposition of any individual or group that seeks to erode or v

iolate our democracy.
 Prescott Indivisible Handbook
To read the Prescott Indivisible Steering Committee Handbook, click here.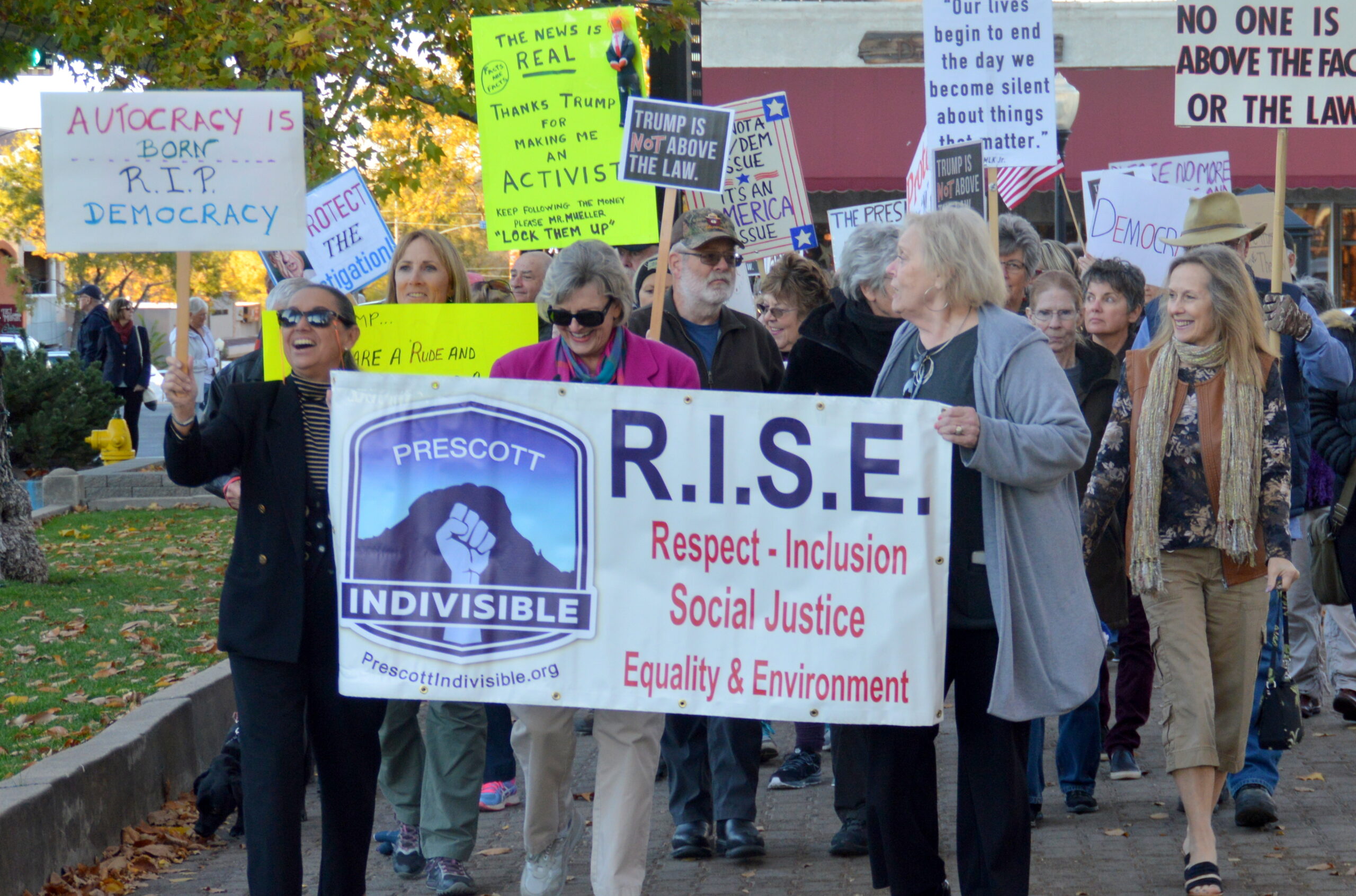 About Prescott Indivisible
Prescott Indivisible was founded in 2017, when Paul Hamilton and Nicole Romine put an ad in the local paper, requesting local progressives to show up at the library. Over 100 people lined up. In short order, we had formed a local chapter of the national Indivisible movement. Within six months we adopted a set of Guidelines in which we work, designed a logo and printed and sold t-shirts. Our mailing list quickly expanded from 100 to over 1,200. We usually have 100 or more attend our general monthly meetings.
Prescott Indivisible has a strong track record of activism. We adopted the team concept: Communication/Events; Voter Education and Elections; Education; Environment; Human Rights; Immigration, and Peacekeepers. The steering committee is made up of elected officers and members at large and the heads of the various teams.  A diverse group of community activists, social justice advocates and others that have volunteer ties to non-profits and religious organizations, the steering committee assists the teams  and sets the agendas.
Our teams and their members have worked diligently to make their voices heard. We have made thousands of calls and mailed thousands of postcards to our legislators in Arizona and in congress.  We have collaborated with like-minded organizations to advocate for issues of crucial importance to Arizona and the nation.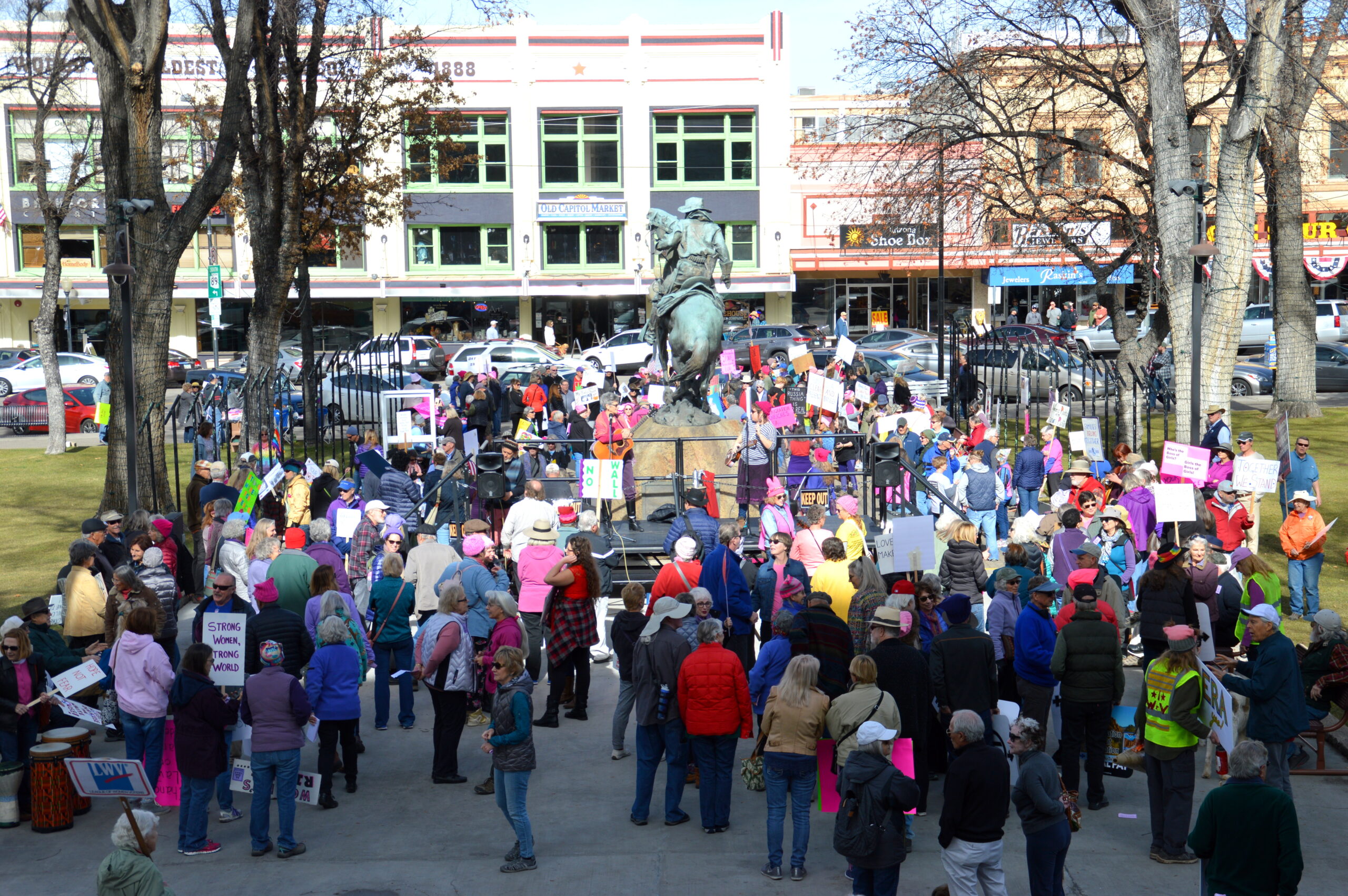 Some Examples of Our Impact
Worked diligently to oppose the threat to the ACA. Members from our Human Rights Team not only had a number of rallies, alerting our fellow citizens of the proposed cuts to healthcare, but they made a huge effort to sign people up before the cut-off.
Participate collaboratively with other local organizations in voter registration drives and Get Out The Vote initiatives.
Candidate Endorsement guidelines were adopted and four offices were approved for endorsement.
Our Immigration Team funded many DACA scholarships. They  worked on Hispanic outreach to Get Out The Vote.  They worked with other community groups throughout Northern AZ to have a successful Keep Families Together march.
Our Education Team successfully worked with #Red for Ed, Save Our Schools and #Invest in Ed. Prescott Indivisible endorsed "NO on PROP 305" to retain funding for public schools.
Partnered with the Women's March on Prescott in 2018-2020.  Partnered with Women's March on Prescott for the March for Your Lives; over 1200 people rallied.
Published a weekly newsletter since Feb. 2017; currently goes to 1,200 emails. Maintains website, public and private Facebook pages, and Twitter presence.
Provided volunteers to collect signatures for the Outlaw Dirty Money/Stop Dark Money petitions.
 Steering Committee
All Prescott Indivisible members are welcome to attend our steering committee meetings,                                                                                   which are held 2nd & 4th Thursdays @ 5:30pm.   For info  Contact us: [email protected] 
Steering Committee Members: Contact any member:

[email protected]

Maria-Elena Dunn; Sundrop Carter; Kate Masse O-Connor; Cristal Lewis; Dee Cohen; 
Jim Stein; Bill Court; Jeff Daverman; Molly Beverly; Jan Suderman; Larry Suderman; Allison Nash; 
Treasurer- Sundrop Carter (

[email protected]

) 
Secretary- Cristal Lewis
Videographer/Photographer: Bill Court
Newsletter Editors: Molly Beverly; Kate Masse O-Connor (

[email protected]

)
Website -Dee Cohen (

[email protected]

)