Prescott Indivisible is a non-partisan community which seeks to promote a progressive and inclusive agenda in support of human rights and the environment.  
We are one of over 6,000 local chapters of the national Indivisible grassroots movement.
We organize and advocate for peaceful, effective resistance at a local level following the strategy set forth in the Indivisible Guide.
We welcome people of any political persuasion who are ready to resist.
We focus on local actions in defense of the rule of law, the Bill of Rights, and the Constitution and stand united in opposition of any individual or group that seeks to erode or v

iolate our democracy.
 Prescott Indivisible Guidelines
To Read the Prescott Indivisible guidelines, click here.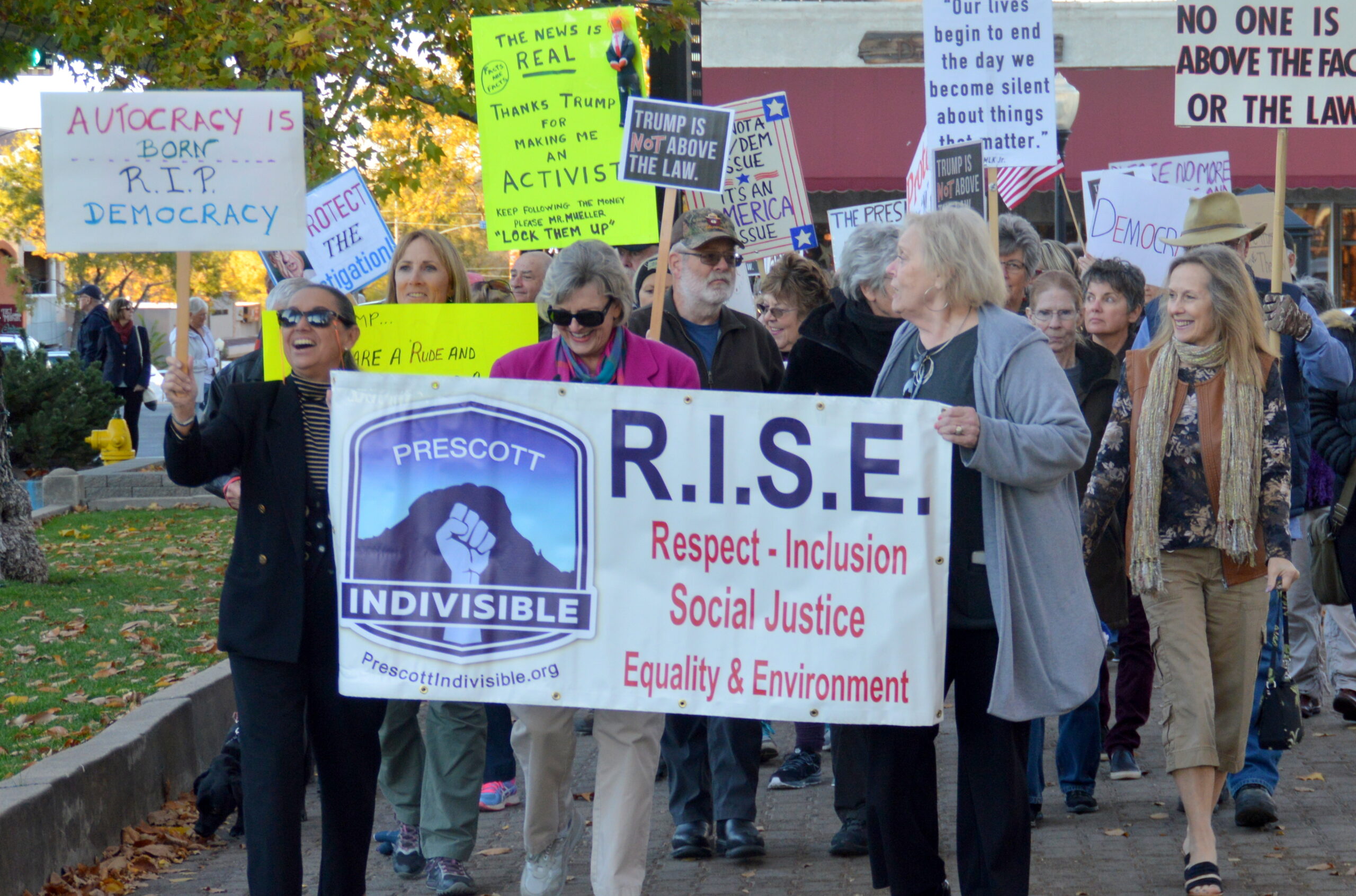 About Prescott Indivisible
Prescott Indivisible was founded in 2017, when Paul Hamilton and Nicole Romine put an ad in the local paper, requesting local progressives to show up at the library. Over 100 people lined up. In short order, we had formed a local chapter of the national Indivisible movement. Within six months we adopted a set of Guidelines in which we work, designed a logo and printed and sold t-shirts. Our mailing list quickly expanded from 100 to over 1,200. We usually have 100 or more attend our general monthly meetings.
Prescott Indivisible has a strong track record of activism. We adopted the team concept: Communication/Events; Voter Education and Elections; Education; Environment; Human Rights; Immigration, and Peacekeepers. The steering committee is made up of elected officers and members at large and the heads of the various teams.  A diverse group of community activists, social justice advocates and others that have volunteer ties to non-profits and religious organizations, the steering committee assists the teams  and sets the agendas.
Our teams and their members have worked diligently to make their voices heard. We have made thousands of calls and mailed thousands of postcards to our legislators in Arizona and in congress.  We have collaborated with like-minded organizations to advocate for issues of crucial importance to Arizona and the nation.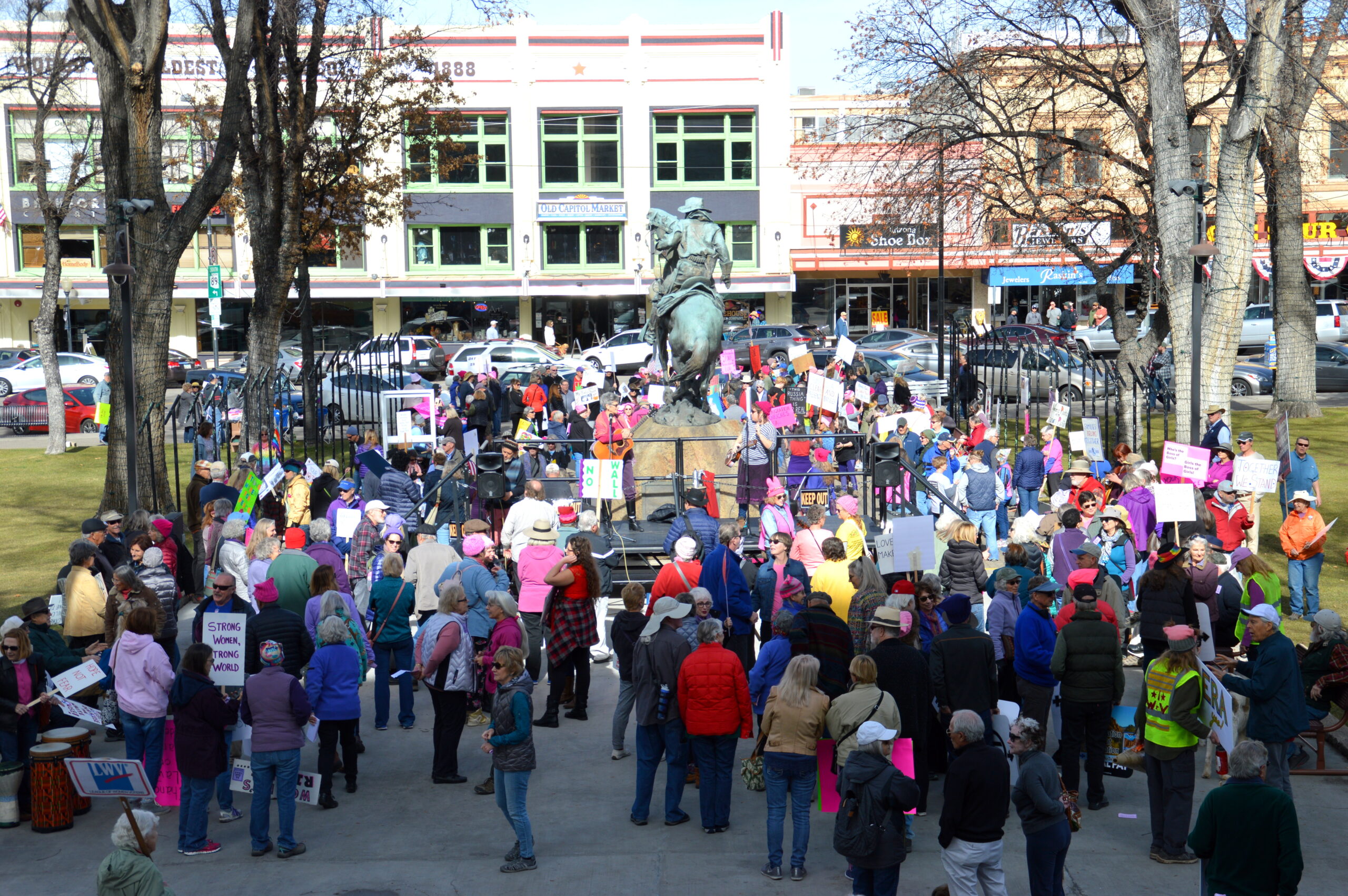 Some Examples of Our Impact
Worked diligently to oppose the threat to the ACA. Members from our Human Rights Team not only had a number of rallies, alerting our fellow citizens of the proposed cuts to healthcare, but they made a huge effort to sign people up before the cut-off.
Participate collaboratively with other local organizations in voter registration drives and Get Out The Vote initiatives. 
Candidate Endorsement guidelines were adopted and four offices were approved for endorsement. 
Our Immigration Team funded many DACA scholarships. They  worked on Hispanic outreach to Get Out The Vote.  They worked with other community groups throughout Northern AZ to have a successful Keep Families Together march.
Our Education Team successfully worked with #Red for Ed, Save Our Schools and #Invest in Ed. Prescott Indivisible endorsed "NO on PROP 305" to retain funding for public schools.
Partnered with the Women's March on Prescott in 2018-2020.  Partnered with Women's March on Prescott for the March for Your Lives; over 1200 people rallied.
Published a weekly newsletter since Feb. 2017; currently goes to 1,200 emails. Maintains website, public and private Facebook pages, and Twitter presence. 
Provided volunteers to collect signatures for the Outlaw Dirty Money petitions.
Steering Committee
The Steering Committee members are the President, Treasurer, Secretary, three members at large and one representative from each of the Teams. Contact us: info@prescottindivisible.org 
Prescott Indivisible Teams
The activities of Prescott Indivisible are planned, organized and carried out by the individual Teams. Want to work with others in the community? Each team has a mission and direction and they need your help.
Here are the team leaders and contact information:
Contact: Rosemary Dixon rdixon2@sbcglobal.net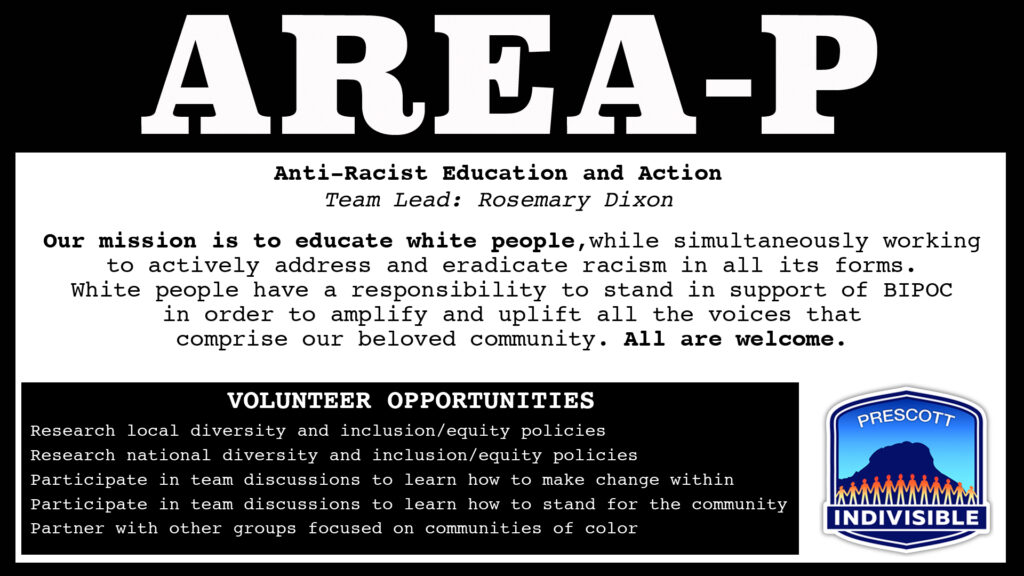 Contact: Jeff Daverman (root.concepts@gmail.com)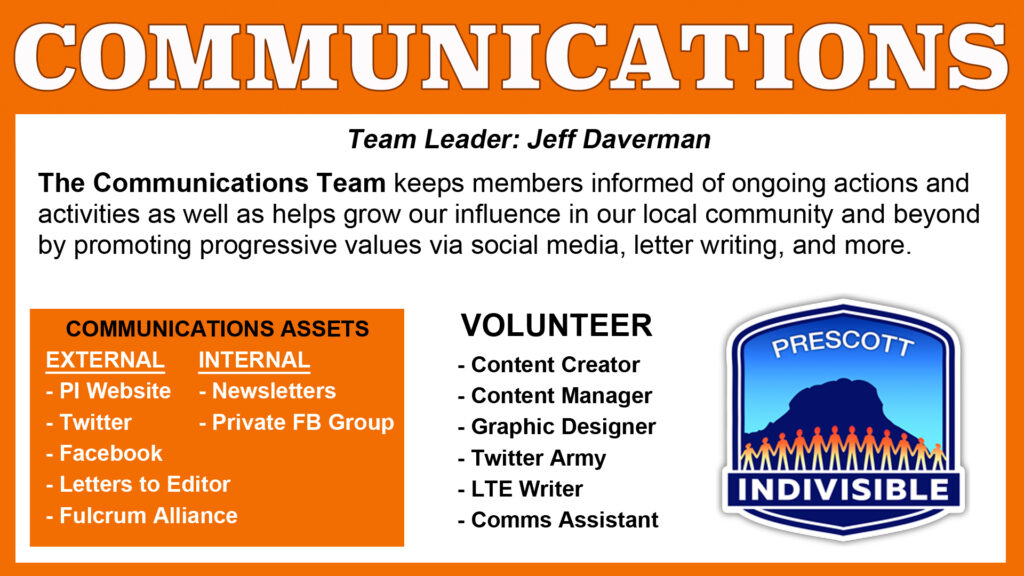 Mission Statement: Maintains media contacts and publicizes group and team events. Keeps social media, newsletters and website of Prescott Indivisible up to date. Team members include the newsletter editors, website manager, videographer and photographers. 
Assists in planning and carrying out events, including protests and actions in conjunction with National Indivisible and other Arizona Indivisible groups, actions to influence members of Congress, and any town halls or forums not otherwise handled by a team.   
Contact: info@prescottindivisible.org
Mission Statement: We advocate for Arizona's public education system to move forward with a secure, sustainable funding source and for all sectors (public district, public charter, and online education) to be accountable and transparent.  We believe that all children deserve early-childhood education and full-day kindergarten; we believe that all members of the teaching profession need to be fully credentialed and have professional salaries; finally, we believe that school systems need to implement evidence-based and cost-effective best practices.
Contact: Jim Stein (jastein@cableone.net)
Mission Statement: The Environmental Team of Prescott Indivisible addresses environmental issues at all levels: local, state, national, continent and worldwide/planet. We research environmental issues, educate the community, bring in expert guest speakers, hold marches, lead and participate in community events, talk to elected officials, and support environmentally friendly legislation and candidates. The Environmental Team works with other environmental groups in the area to have a greater impact on issues and a wider scope of actions we can take.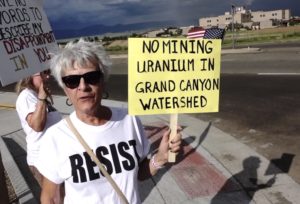 Contact: Maria-Elena Dunn (latinoindivisible@gmail.com)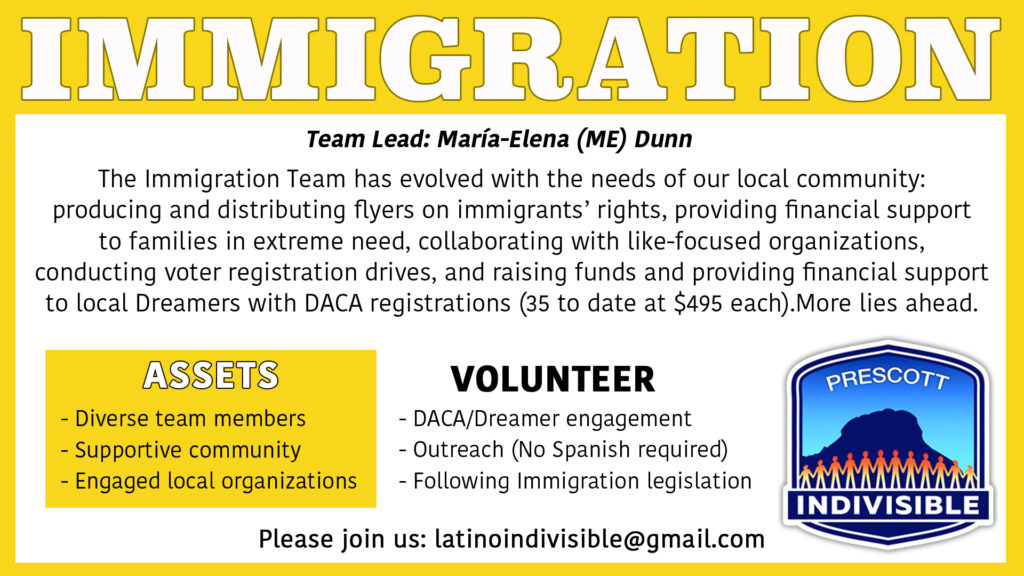 Mission Statement: We advocate for comprehensive immigration reform that includes reasonable, fair, humane treatment and processing for all immigrants, asylum seekers, refugees, and long-term migrants such as DACA/ Dreamers currently in the United States. 
 What we do:
March for immigrant justice
Ally with local groups supporting immigrants and immigrant rights
Publish and distribute "Know Your Rights" flyers and accompanying wallet cards 
Help immigrants on the path to citizenship
Raise funds for local undocumented families struggling with attorney fees and other expenses.
Provide financial assistance for local DACA recipients to renew their applications
Contact Members of Congress regarding the many issues of immigrant justice, eg supporting Dreamers, and opposing the Wall, the Muslim ban and separating of families.
Work with like-minded groups to register Hispanic voters and to get out the vote
Work to elect representatives with humane and just views on immigration
Provide an information and referral data base to better respond to requests for aid
Contact: Marion Pack (marionpack1@yahoo.com)
Mission Statement: At all public events which PI participates in, or organizes the goal is to demonstrate our concerns in a peaceful, and respectful way. In these times of tension there is always the potential for disruption by people with differing opinions. A PeaceKeeper's primary  role is to be an observer. If there is a confrontation between counter-demonstrators our people, PI will work to defuse the situation in a calm manor and peaceful words. Should the situation continue to escalate with no resolution, PK will act to contact law enforcement officers.
Prior to any event the police are made aware of our plans and that our goal is peaceful in our actions and words.  With this advanced notice, police know who we are and will work with us to make sure everyone's rights are respected.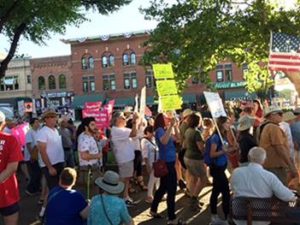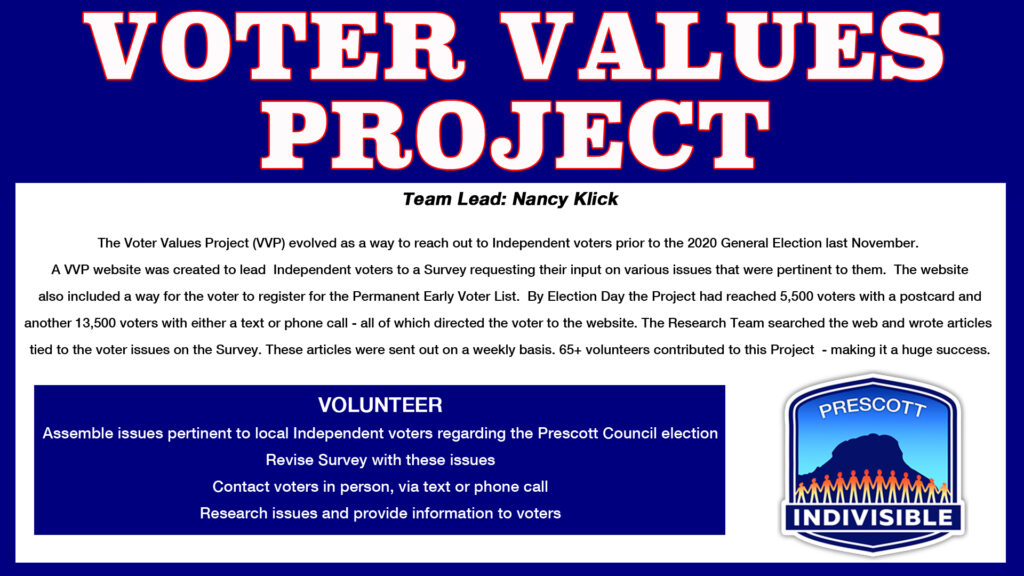 Mission Statement: The Elections Team works to support progressive campaigns to register, educate, and motivate voters. Our goal is to direct volunteers and public attention to candidates and issue-oriented organizations endorsed by Prescott indivisible and its state and national affiliates.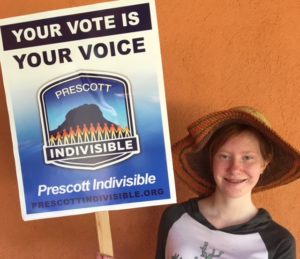 Contact: Riley Harrington