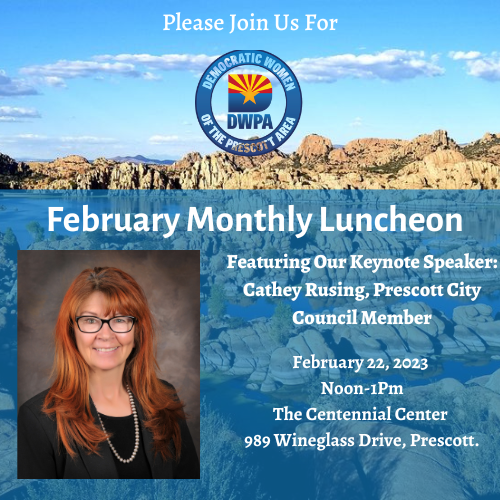 Prescott, the deadline to RSVP for our February Luncheon is fast approaching. All attendees are asked to RSVP by Friday, Feb 17 at noon. Attendees who wish to pay at the door or need a Vegetarian, Vegan, or Gluten Free meal should email dwpa@dwpaaz.org.
This month we are joined by Prescott City Council Member, Cathey Rusing. In addition to enjoying another delicious Italian meal provided by the Centennial Center, we will be hearing from Council Member Rusing about the pressing issues facing Prescott. 
About our Keynote Speaker: After being elected by an overwhelming majority, Cathey Rusing joined the Prescott City Council in 2019. She ran on critical issues facing our community such as water, growth & development, traffic, and preservation. In addition to her advocacy for government transparency, Rusing is a member of CWAG, the Citizens Tax committee, and serves as a volunteer for the Yavapai County Emergency Medical Reserve Corps.
Opportunity Drawing: This month's opportunity drawing winner will receive a "Stay-cation" package which includes luxury chocolates from See's Candies, a Deluxe wine kit, and a fine bottle of red wine. Tickets are $2 apiece, or $5 for 3, or $10 for 13.