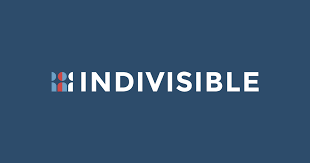 Indivisibles, 
Good news! Last week, progressives held their ground in the House. Not only did we have a massive show of the Congressional Progressive Caucus' strength last week, we also made major progress towards advancing President Biden's Build Back Better agenda.
If you love this gif from one of our partners, you'll love this gif library.
But this work isn't done yet. The next major deadline is October 31, which is when the current short-term authorization for transportation runs out — meaning we need to pass the Bipartisan Infrastructure Framework (BIF) before then, AND we need to pass reconciliation before BIF. This means we're in a key moment for advocacy as we fight to win the most progressive reconciliation bill possible. It is urgent that you call your representative and tell them how important it is that we pass an inclusive recovery bill that works for everyone.
It's on us to continue pressing Congress to pass reconciliation through both the House and Senate. So, once you have called your representative, click here to call both your senators and demand they pass the bill immediately after the House sends it over.
While we celebrate our win in the House, let's talk about what an inclusive recovery package would look like:
Lowering drug prices, expanding Medicare to cover vision, dental, and hearing, and lowering the eligibility age to 60 years old;
Investments in climate, including a Clean Electricity Performance Program (with no fossil fuels!) and a Civilian Climate Corps;
Investments in housing, especially deeply affordable housing and housing for unhoused populations;
Historic investments in the care economy including universal child care, paid leave, and home and community-based care and;
Address extreme wealth inequality by taxing the ultra-rich and big corporations so they finally pay their fair share.
It's critically important that the House passes reconciliation alongside the BIF in order to ensure the House passes a bill comprehensive enough to meet this moment. With your help, we've been supporting their demands for a big, inclusive recovery package–one that guarantees the investments that our communities desperately need.
In solidarity,
Indivisible Team