Dear Arizona Voters,
The next topic in our research on election issues is Voting Rights. It is a huge topic and will be discussed in several parts with you. Since we just had the local primary election, we thought it fitting to start with information on what is happening in Yavapai County.

Yavapai County Primary Results
Registered Voters 149,903 – Total Ballots 62,671
41.81% turnout as of 8/5/2020 at 5 pm MST
Click for election results throughout Yavapai County
https://www.yavapai.us/Portals/26/Elections/2020/0804/ENG_2020_PE_Results_Post.pdf?revDate=202084_813p&revDate=202084_813p
Use this link to check that your ballot has been accepted and counted.
https://my.arizona.vote/AbsenteeTracker.aspx
When discussing voting rights, a good first place to look is at the number of registered voters. Do 150,000 registered voters represent the total voting-age population of Yavapai County? And if not, why not?
The Voter Values Project of Prescott Indivisible has gathered data on voting eligibility and practices for Arizonans. This week's update discusses voting by mail. Voting by mail isn't a new idea. Every state already has some kind of vote-by-mail program in place. Arizona offers an absentee ballot upon request with no excuse needed. Arizonans who request absentee ballots also get to vote early in the process.
In addition, voters can opt to always receive an early mail-in ballot by signing up for PEVL
(Permanent Early Voting List – pronounced like "pebble" but with a "v") and receive their ballots a few weeks before any election. At present, 80% of registered voters in Arizona are utilizing this feature.
If you aren't a PEVL voter, click here to sign up before the November election.
In last week's election, 32% of registered voters had cast ballots that had been counted by 8 pm on August 4th. Results were unchanged by the time the remaining 9% of ballots had been counted at the end of the next business day.
There is NO COST to mail an Arizona ballot via USPS, and there are drop boxes throughout the county.
If you have a friend or family member who isn't signed up for PEVL – explain the benefits. Their votes are counted and available within hours of the close of the polls.
Future updates will discuss voter rights history, voter suppression, and candidates' positions on Voting Rights. Thank you!
Voter Values Project at Prescott Indivisible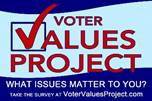 Sent from Mail for Windows 10