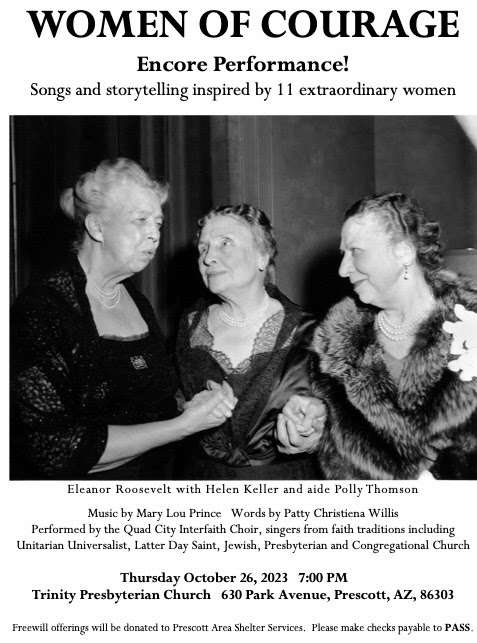 Women of Courage:
The Unveiling of a Monument of Words and Song
To honor and remember the courage of their heroes, composer Mary Lou Prince and lyricist Patty Willis have created a monument of words and song. These songs honor women, known and unknown, who have changed the world through their courageous lives. Each woman encountered seemingly insurmountable difficulties, and each used her unique talents to transform the world into which she was born.
Eleanor Roosevelt
Etty Hillesum, a Jew, and brilliant Russian scholar living in Nazi-occupied Amsterdam
Dolores Huerta, co-founder of the United Farmworkers and mother of eleven children
Viola Jimulla, at the death of her husband in 1940, became the chieftess of the Yavapai people.
Recy Taylor, a young married black woman, gang raped as she returns home from a church service one evening in rural Alabama, will not keep the silence demanded by her violators.
Mine Okubo, a gifted painter interned at Topaz in central Utah when American citizens of Japanese ancestry were rounded up during World War II,
The authors hope that these songs will inspire listeners to courageous acts that are waiting to be born.
For more information, please contact Mary Lou Prince at musicdirectorgranitepeakuu@gmail.com